2020 was a crazy year – the covid pandemic hit the world and e-commerce sales increased immensely as brick-and-mortar stores had to close during quarantine. As the world struggled with the lack of business and decrease in jobs, people began realising how dependent they are on just one income, and a few have built up bravery and confidence to build an additional source of income. Some have looked to stocks and trading, others to blog writing and affiliate marketing, and others like you to becoming an e-commerce seller. Becoming an e-commerce seller/dropshipper is one of the best and quickest ways to build an additional source of income; there's no large start-up cost (you only buy products once you sell it), a lot of early traffic can be gained for free through social media page post growth before advertising and marketing, and the sky is the limit to how many products you sell and how many customers can buy. Let's dive in to why you should start dropshipping in 2021.
Is dropshipping dead?
Every year (starting from 2014), the same question is asked to everyone within the dropshipping space: is dropshipping dead? The answer is no – actually its far from dead. Dropshipping has increased drastically year over year as more and more people have seen the opportunity to make money online (as shown in the graph below, source cited). Yet, the e-commerce market is still at its growth stage, it still only accounts for 17% of all commercial transactions and will continue to grow 10-fold over the next couple years.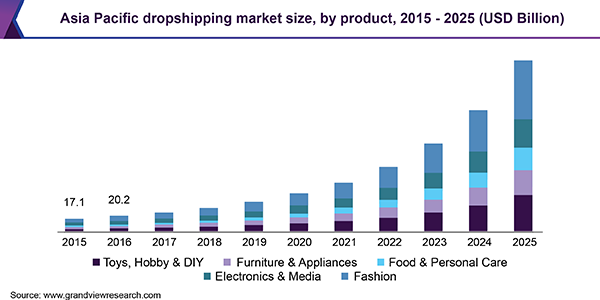 When should I start?
As the famous saying goes, humans will always have unlimited needs and wants. New products will always release, new trends will always pop up and therefore new customers will always be willing to buy thousands of products online. There is no better time to start dropshipping than now – all new sellers now have access to thousands of free videos teaching them about dropshipping, tools like Ecom Pilot that let you find great products to sell without having to waste thousands on testing, and more buyers online as more people have turned to shopping online from the comfort of their own home instead of physical stores.
Where do I start?
We recommend checking out our platform, Ecom Pilot (you can check us out by clicking here). At Ecom Pilot, we've designed a research tool that tracks real order data to provide you with real results. Less speculation, guesswork and stress on whether a product has demand and if it will convert. We do the work for you so you can focus on selling and growing. We provide our whole service for 26 dollars a month which means you can pay off your subscription with 2 sales a month – we're looking to take the stress and uncertainty out of e-commerce and help you with your dropshipping growth in an affordable and powerful way.
We also recommend you watch youtube videos, read the various blogs available for free online and message us to get help on starting your dropshipping journey. We wish you all the best of luck, and look forward to seeing your dropshipping success in 2021!