So you've decided to choose Ecom Pilot. You've now unlocked all of our research tools and are ready to accelerate your dropshipping success by finding reliable products to sell. This article will help you familiarise yourself with the Ecom Pilot Research Suite, why it was designed that way and how we intend for you to use it in order to get the most out of your subscription!
When do I use each tool?
We recommend:
Ecom Product Finder to find products you want to sell by seeing real orders, reviews and real potential.
Handpicked Products to view current successes, and use/adapt their strategies/ads/stores for your products and niche. Watch and learn what's working currently.
Personal Product Tracker to track all products you're interested in to let you compare them easily and inspect over a few days to see if orders stay the same.
We recommend that you start with Ecom Product Finder as your primary source of great products you'll want to dropship.
Ecom Product Finder is designed to use machine learning algorithms to look through thousands of AliExpress products and find promising ones for you to sell. Compared to other platforms, Ecom Pilot focuses to look at AliExpress, as we know that for drop shipping success, you need to be the first to find products that have not yet been used as dropshipping stores and are not oversaturated. How do we make sure they are still tested? We provide you with real order data from AliExpress suppliers so you can see the REAL demand for those specific products. We do provide the handpicked section for you to use as inspiration – we want you to see what great products are being sold currently, alongside their ads, website and amazon listing so that you begin to learn what sells and what doesn't, and how you can use/adapt their existing strategies and campaigns with your products. With Ecom Pilot you get handpicked products just like Ecom Hunt, Dropship Spy, Dropship Rabbit and others as an extra feature. Get real results by using our tools that show you real proof behind products you choose. Let's leave speculation and guessing to users from other platforms.
We designed the tools so that this should be your workflow:
Ecom Product Finder >> Track some products >> Check over couple days/weeks to confirm decision >> Create store >> Create Ads >> Sell
You should spend some time looking through our database of great products, and begin tracking the ones you're interested in. We have implemented the tracking feature to help you compare different ideas and products against each other all in one place. We understand that this may mean you use our platform less since you don't need to repeatedly search, but that is what we want – we put your success and research first, and our product second. By tracking products, you can log on each day to our tool and check real order data to see if it has changed much and if its still worth pursuing. In the meanwhile you can research alternative products, check for competition and their adverts, and if its still going strong, its time for you to begin your store.
There's always a "Need Help" section
Every tool you will access on Ecom Pilot has a "need help?" section (as shown circled in the below screenshot) which when clicked opens a help guide that details what this blog covers and how to effectively use the tool.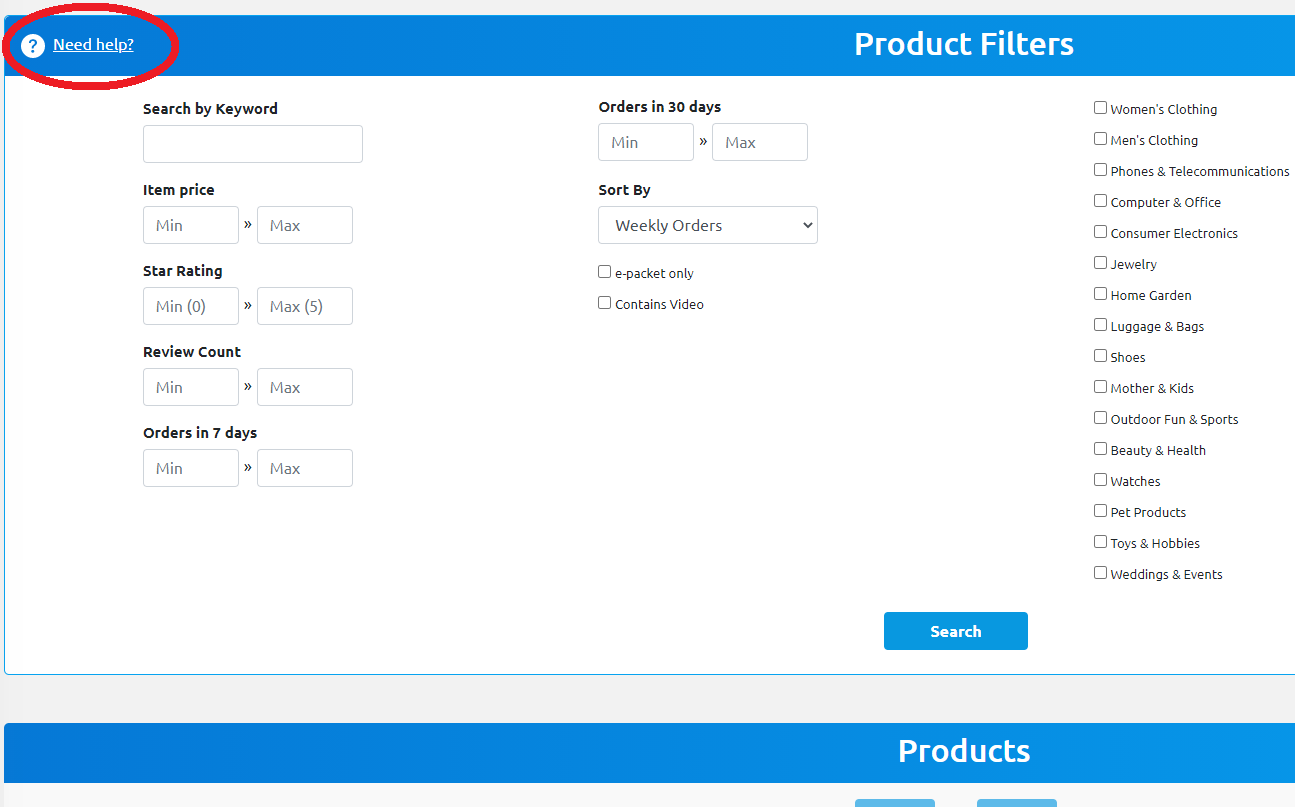 Those sections will continue being updated as we get new questions from users and sellers like you, and will eventually include a demonstration video covering how to use that specific tool. So remember, when in doubt – look for that "Need Help" or question icon section.
Most importantly – You're now an Ecom Pilot!
You're now part of our community so you can always contact us via our live chat/facebook/instagram or email about any dropshipping questions you may have. Whether you're new to dropshipping, and would like links and help understanding what you have to do to get your first store or first ad, to an experienced sellers wanting to get suggestions for audience targeting and ad creative design. We are now one team – and we want you to succeed!