The year is 2020 – millions of us worldwide are now able to order products on demand from around the world, and get them delivered to our doorsteps without ever getting out of our seats. There are millions of products currently sold online, from necessities such as food and tooth paste, luxury goods such as electronic gadgets and expensive clothes, to large goods such as furniture. It looks as if e-commerce is already too full of products and that all needs have been covered but that is far from the truth. As consumerism states, there will always be an unlimited want , therefore always new demand and opportunities for you, as a seller and entrepreneur to fulfil and make your mark. So how do you find a great dropshipping product? That's easy, its by using our product research tools at Ecom Pilot; we do the research for you. But more importantly, what makes a great product?
Demand for the product
The most important aspect of selling any product, good or service is that there are people who are willing to buy it. If there is no demand for your product, then there is no one willing to exchange money in order to buy your good. This is why its important to research and test if there is a need/demand for a product you're looking to sell. This is why at Ecom Pilot we track real order data on AliExpress products to see whether there is a need/demand for that product – the higher the sales the better. There are also instances where low but steadily increasing sales are good; this usually means that the product is becoming increasingly popular and that you could be the first to supply it, giving you the first mover advantage (https://www.investopedia.com/terms/f/firstmover.asp). Ecom Pilot tools show increasing demand by displaying growth rate – a way for you to see the difference easily between last week and this week's orders.
Tip – We recommend you try to find products that are a necessity and that will improve someone's life, either by entertaining them, making a daily task easier etc.

Ecom Pilot 2020
Price
So, you found a product that has plenty of demand. Next thing you'll need to do is determine if you are able to profit from it. Products such as toilet paper might seem like a great product to sell, however due to the massive competition you will be going against and the competitive price you are able to sell it for, it turns out its not a good dropshipping product. A dropshipping product needs to be able to be sold for a higher price that will cover your advertising costs and your product costs. Usually, a dropshipping product will be sold for 200% the original product buy price in order to comfortably cover the advertising costs. Remember, the biggest cost with dropshipping isn't buying the product, its advertising the product and finding the customers to buy it, therefore you need to find out if you can charge enough for your product to cover ad costs and still make some profit.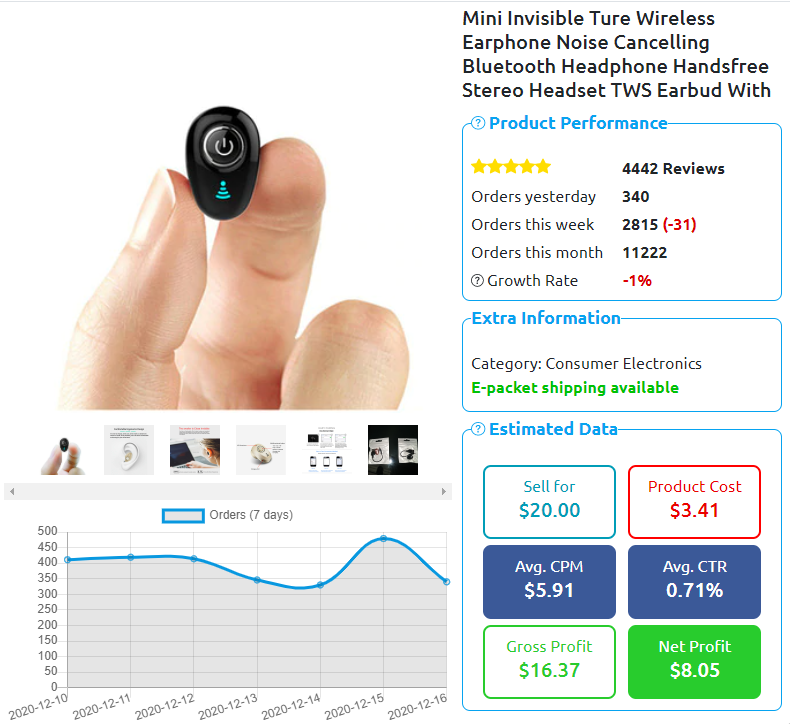 This is why at Ecom Pilot we provide you with Estimated Net Profit, that not only factors in product cost, but also average customer acquisition through Facebook ads – no other platform does this, which is why we are the preferred platform for many dropshippers and e-commerce sellers. Product pricing is a larger topic on its own, and we will go into more detail on it in our future blogs, covering concepts such as high-ticket products.
Competition and shipping
So there's demand for your product, and you figured out how that you can sell it and make a profit: Great! Now its time to look into competition and shipping. When you find products on Ecom Pilot, you will often find up and coming products which won't have much competition, so you won't have to worry about variations or going into saturated markets. If tried and tested products are your thing however, out handpicked products tool always shows products that are currently being dropshipped that are doing really well; we also include a live facebook ad, a current dropshipping store and an amazon product listing link to that product so you can get inspiration and ideas for your store and listing.
Shipping is also important – once you have a product and niche in mind, you need to find a supplier that will have short shipping times so that your customers aren't waiting too long for their product. Often times on AliExpress, there will be hundreds of different suppliers offering the same product with varying shipping methods, you should choose one by their reliability and shipping cost. At Ecom Pilot, we let you filter through products by e-packet shipping – a popular and preferred shipping method for drop shippers. Why? Its because e-packet is usually reasonably priced and reliable – products aren't lost in transit, and they usually have a delivery time of around 14 days which is great since most other shipping methods from China take longer than 15 days. If you wanted shorter delivery times, its usually very expensive to get, so unless you're able to make a significant profit margin to cover this cost, then we recommend looking for e-packet shipping. Ecom Pilot also lets you view product supplier reliability, as we quantify and track their unsuccessful or delayed orders and reviews to let you see if this supplier will deliver on his/her promises.
We hope you enjoyed this blog, and that it gave you an overview into what makes a great dropshipping product, and how Ecom Pilot can help you find one. Subscribe to our newsletter on our home page for an email when a new blog comes out and any promotions we are doing, or join us now and use our research tools today!
Follow us on our social media accounts to get tips and join our growing community!